Time for another outfit link up post with
Rachel at Suburban Strut
!!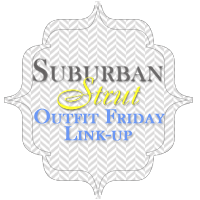 These days I am pretty much a skinny jeans everyday kinda girl. I have a few boot cut jeans but I hardly wear them. To be honest I feel like boot cut jeans make me look bigger and frumpier where skinny jeans seem to be more flattering.
I could be completely wrong, but it's just how I see it when I look through my eyes.
But Sunday I decided to break out the boot cut jeans.
Monday was the day before our event at work and I knew I would be running around all day so I went for comfy/casual. This is when my black skinny pants come in handy. They are SO comfortable I got them at Old Navy last year before they came out with those skinny jeans that are comparable to paint - they are so dang tight. These have an elastic top and remind me of maternity jeans - minus the heartburn.
Shirt: Gap
Black Skinnies: Old Navy
Shoes: J Crew
I already posted this pic from my event but its the only pic of my outfit I have from Tuesday.
Dress: Gap
Necklace: Ebay
Shoes: Tory Burch
Be sure and link up with Rachel!